Rachna Patel
Her Story
Hi! I'm Rachna,mama to a spirited boy and fearless little girl. Our family of four lives in Northern California and we spend our time exploring the outdoors looking for our next adventure!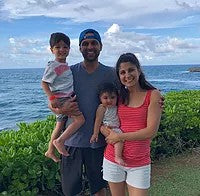 Fun Facts
"My husband and I have always enjoyed traveling and adventurous activities such as scuba diving. We hope to instill this sense of adventure into our two little ones!"
Fun Facts
"We LOVE the quality and durability of LONE CONE products. They are perfect for toddlers who love to run through the mud, climb over rocks, and scale trees (all of which my kiddos love to do)"