Kelsie Stevens
Living the Idaho Dream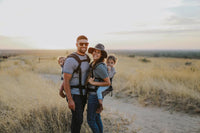 Her Story
Hi! Im Kelsie, mama to two sweet babies, Waverly and Brody, and wife to Ben. I was raised on my family farm in SW Idaho and after living in several other states, am finally back home with my family living our Idaho dream. We love any type of adventure and are always up for a good time!
LONE CONE LOVE
Kelsie's says her family lives in LONE CONE boots. "They're quick to slip on, durable on all our farm excursions, but are still cute enough for Waverly to wear to school!"
Finding Home in Idaho
"We moved to Idaho because we wanted to provide a life for our kids that very few places have to offer. Safety, adventure, farm life and four beautiful seasons. We love our Idahome!"